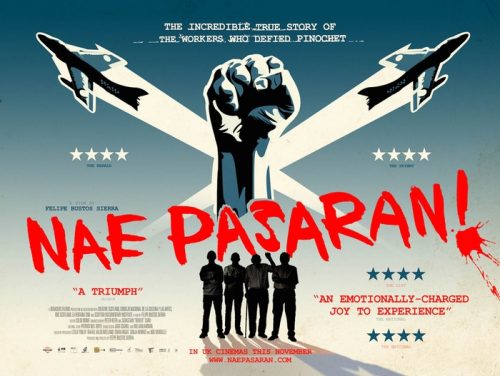 Join the People's Film Club from 7pm for an exhibition of Chilean art by Bordando Por La Memoria, a collective of first and second generation exiles from the Chilean community whose work remembers the disappeared and politically executed in Chile.
Alongside food & music, brilliant activist groups, solidarity campaigns, and unions will be there, including Lesbians and Gays Support the Migrants, Chile Solidarity Network, Brazil Solidarity Initiative, Cuba Solidarity Campaign, Brazilian Women Against Fascism UK, London Young Labour, Campaign Against Arms Trade, Alborada, IWGB, Unite Young Members, Latin American Women's Aid & more. Student societies like KCL Justice for Cleaners and Demilitarise King's will also be joining!
After screening the BAFTA-winning Nae Pasaran, we will be joined by John Keenan of the East Kilbride workers, along with two contemporary Chilean activists, Rossana Leal and Isabel Cortes,  – chaired by the brilliant Seb Aguirre of LGSM and Ice & Fire theatre!
It's going to be a brilliant night, celebrating the power of solidarity, all while raising money for the Agrupación de Familiares de Detenidos Desaparecidos (the group founded by the family and friends of the disappeared in Chile), alongside Bordando Por La Memoria and the workshops of Arpillera-maker Maria Alicia Salinas Farfan.
We can't wait to see you all tomorrow. Grab a ticket if you haven't already, and solidarity forever ✊