Lobbying your university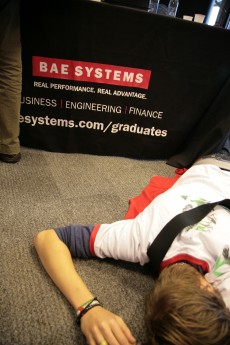 One of the most long-lasting ways of kicking arms companies off your campus is to get your careers service to stop inviting them.
Your careers service should be about helping you to make fully informed career choices, not about blindly promoting any company who can pay.
Your university may already have ethical policies regarding its conduct. They may not invest in tobacco companies, for example. We need to push our universities to prove their commitment to ethical principles by ending their involvement with arms companies.
For a university to make a policy sends a clear and strong message that it, as an institution, does not see arms companies being legitimate. Rather than doing blind promotion of destructive companies, a policy would be the university taking seriously it's responsibility for it's role in the world.
What should we be asking for?
There's a range of things you can ask for, outlined below. (The bigger asks are at the bottom of the list).
Greater transparency about Careers Service policies
Provide current policy: A good first step is to find out what ethical policies the university already has. If they are not already publicly available then you can ask for them with a Freedom of Information (FOI) request.
Explain current policy: The next step is to ask the careers service to have their ethical policy available publicly (for example, on their website). This document should explain the policy, in the context of other university ethical policies. This could include information on why the university has picked tobacco companies as the only ones to disassociate with, for example.
Transparency of income: You can call on the careers service to publish details of what sponsorship they get from companies and how much companies pay to attend careers fairs. (They may already do the latter.)
Transparency of practice: What advice does the careers service give to students? Do careers advisors mention ethical concerns when talking to students about arms companies?
Full information for students
Inform students of ethical issues: Careers services should refer to ethical issues and concerns when talking to students about companies. Ethical considerations should be discussed in all careers service materials, websites and personal appointments. This will enable students to make fully informed decisions and weigh up ethical considerations for themselves.
Variety of sources of information: Careers services should provide students with a range of sources from which to find information about companies, not just the company's own website!
Answers to questions: The careers service could ask companies attending careers fairs to train their staff to answer all student questions, including on ethical issues. Students should be able to expect proper answers from company representatives.
Rights for student protesters
Know your rights: It is important to know the risks of any action you take, both in relation to the law and to your place at the university. Your university may have a policy about student protest that you can get hold of. Check out the Activists Legal Project briefing on protesting on campus.
Strengthen your rights: You might want to lobby your university for certain rights to protest; to distribute leaflets inside careers fairs, for example.
Students' Unions: Protest policies might demand that the Students' Union inform the University of any potential protest. This is definitely something you want to know and might be something you want to challenge. (See below for more information on Students' Unions).
Ethical careers
Ethical Careers Fairs: The careers service should hold ethical careers fairs to showcase ethical organisations to students.
Information: They should also provide advice on how to choose an ethical career, and give students help with finding one.
Genuine commitment to ethical principles
Genuinely ethical policies: The university's ethical policies should demonstrate a genuine commitment to ethical principles. Inherently unethical companies, such as arms manufacturers, should not end up lauded as ethical just because they donate to charity or recycle their jam jars! Careers service policies should be subject to scrutiny to ensure that they are effective and comprehensive.
Accessibility: Attendance of careers events shouldn't be determined by who can pay, as this means that smaller and less profit-driven organisations may be priced out. Careers services should make a commitment to showcase a wide range of organisations to students.
End to promotion
Banning arms companies: Ultimately we want to see arms companies banned from careers events. They are not legitimate companies and should not be presented as such.
End to promotion: Careers service promotion of arms companies goes further than inviting them to attend careers fairs. Arms companies shouldn't be promoted or advertised at all by the careers service; in literature, on websites, or anywhere else.
Top tips on engaging with your careers service
Research: Start by finding out what policies your university already has. If they are not already publicly available then you can ask for them with a Freedom of Information (FOI) request.
More research: You can also request to see correspondence between your careers service and arms companies using the Freedom of Information Act. They may claim commercial confidentiality or data protection, but this only really requires them to blank out prices and email addresses, rather than deny you the communication as a whole. Please let us know what you find out!
Students' Unions: Getting your Students' Union on board will really help. Getting a Students' Union motion passed in favour of your demands will demonstrate the scale of student support for your campaign. Your Students' Union may also be a more effective negotiating force than your group on its own. However, as mentioned above, your university's protest policy might say that the Students' Union has to inform them of any planned protests at careers fairs, so you might want to think carefully about the ways in which you work with your Students' Union.
For more help: Take a look at this People and Planet guide to lobbying for more tips.
Get in touch for help and to let us know how you're getting on.
Keep us in the loop about your activities so we can publicise your successes and share your learning with other students.