On Wednesday 6 March, six months before the DSEI arms fair is due to return to London, students and other activists across the UK took action against arms companies at their universities and in their communities, sending a strong message that their business will not go unchallenged.
Warwick
Weapons out of Warwick took non-violent direct action against the arms trade on their doorstep with an occupation of the reception of General Dynamics. A statement was read out over the intercom and General Dynamics leaflets were replaced with anti arms-trade leaflets.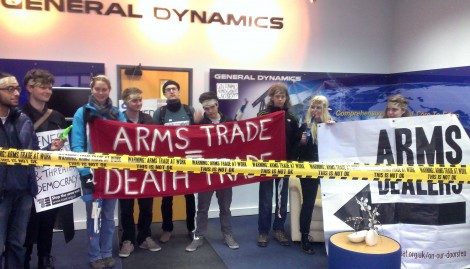 From their statement: "Unlike the UK government we will not stand by whilst GD makes a killing out of dealing in destruction and war. General Dynamics, the blood of innocent civilians around the globe is on your hands. Stop indiscriminate arms sales, put people before profit." Read more here.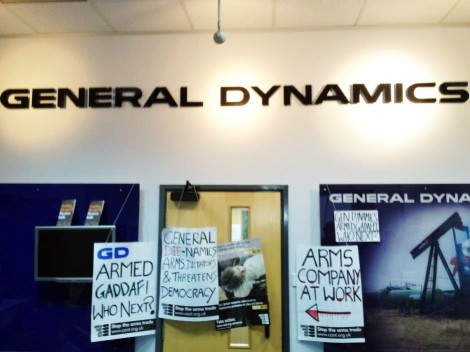 Swansea
Swansea received some great news when a university careers event with Marshall Aerospace was cancelled shortly after they had made plans to protest! They leafleted anyway, using the opportunity to build their campaign to 'disarm Swansea'.
Sheffield
Sheffield students staged a die-in by the Thales recruitment stall at their careers fair and read out a list of names of drones victims. They were met with a heavy-handed security response.
From their statement: "The University prides itself on being a values-led organisation; however, its continued liaison with arms companies responsible for the murder of innocents around the world throws this claim into serious disrepute." Read more here.
Lancaster
Lancaster students held a die-in to demand an end to university investment in BAE Systems and worked hard to collect more signatures for their petition to their Vice Chancellor.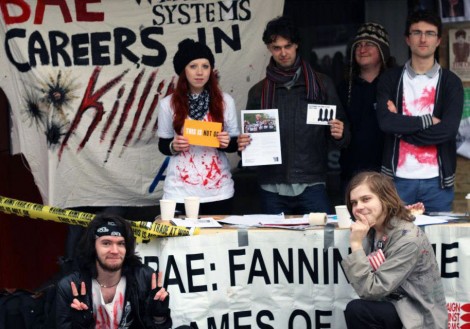 London
In London activists leafleted the public outside the offices of Lockheed Martin to draw attention to the presence of arms companies in central London (something Lockheed Martin's unlabelled offices seek to downplay perhaps!)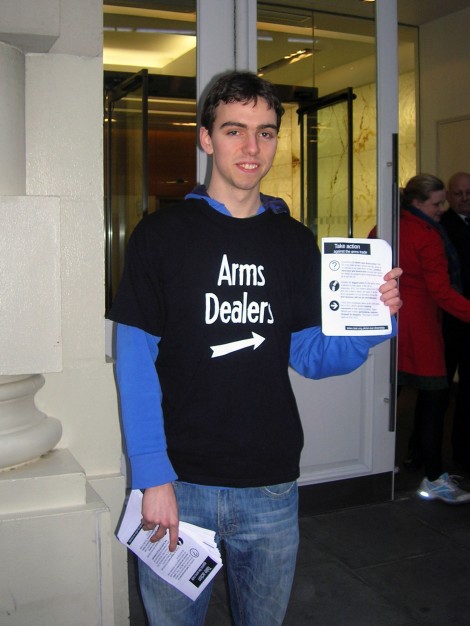 Leeds
The day of action took place during a busy period for Let's Disarm Leeds, who are currently campaigning hard to win a referendum. Their demand – to ban BAE from campus! On Wednesday, Leeds University Centre for African Studies held a talk by Andrew Feinstein about the global arms trade and Let's Disarm Leeds secured his support for their campaign.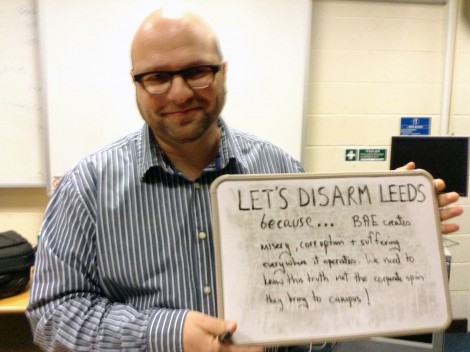 Bristol
The arms trade never stops and neither do we! The day after the CAAT student day of action, activists in Bristol set up a fake Palestinian check-point for the attendees of a talk for the University of the West of England (UWE) by the President of Boeing UK. See pictures on Demotix.
The day of action was just one part of the build up to the threatened DSEI arms fair. Get in touch to get involved at your university or contact Stop the Arms Fair on info(at)stopthearmsfair·org·uk to join us in protest at the fair (or to stop it first!)